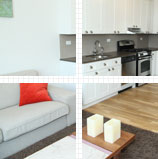 In today's budget-driven construction and development arena, effective project management and execution have taken on a key role in virtually every phase of the development process.
From pre-construction feasibility and analyses to professional takeoff, budgeting, AEC services and overall management, the need for a cohesive team of high-caliber, seasoned professionals is critical to seeing projects through to a successful, true-to-budget conclusion.
NYDM's comprehensive project management services provide clients with the vital tools to leverage risk and uncertainty in their capital programs.
Our program management professionals work closely with our clients to review and analyze the details of a project, establish and evaluate objectives, plan and manage the process, identify obstacles and resolve problems.
The combined benefits of experienced personnel along with state-of-the-art technology and solutions ensure optimum oversight, management and seamless integration from the field to the office.